Overview
It's been a mighty long time since we signed and sealed the DomZ's fate on Hillys. They really never should have picked a fight with our planet, especially while Jade and I are around. Thankfully our adventures didn't stop there, so let's go see what the future has in store.
Beyond Good & Evil 2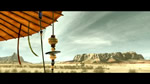 Rumours began way back in 2006 of Ubisoft and Michel Ancel gearing up production of Beyond Good & Evil 2. The biggest concern was whether or not the struggling sales of the first game would bar any chance of a sequel.
Thankfully, sales didn't stop creativity and two years later Ubisoft finally lifted the veil at the Ubidays '08 event in May 2008. All we know so far is that both Jade and uncle Pey'j return for the sequel, and are last seen waiting for help out in the middle of a harsh desert with a broken-down hover car (see? They really never should have ditched the hovercraft).
Judging by Jade's older appearance, some time has passed since the climax of the first game. Apart from a bandaged left arm, Pey'j doesn't look much older himself, he even still uses the handy D23 wrench they picked up in Black Isle all those moons ago.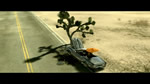 The first trailer gives us a few insights into the sequel. The graphics engine is incredibly detailed - clearly matched for the current gaming generation. If Ubisoft's claim of real-time rendering in the trailer is true, we'll be in for an amazing treat.
The fantastic humour and charm of Jade Reporting & Co.'s first adventure is sure to make a comeback, especially when we witness uncle Pey'j's first lesson of survival out a harsh climate (hey, at least it helps demo the new graphics, right?).