News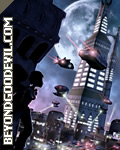 June 27th, 2009 [00:12:05
GMT
]
BN jumps to Retropixel
The guys at IGN/GameSpy are sadly ending their website hosting services, so Beyond Network has packed its bags and moved to this new home: http://bge.retropixel.net/. The old site should automatically redirect to this new one, but the redirection may not last beyond August so please be sure to update any bookmarks. All the ads are gone for now, but FilePlanet is still the place for major downloads.
May 10th, 2009 [20:43:57
GMT
]
Mystery Beyond Good & Evil 2 footage
Whoops, been a while hasn't it? Let's get right down to business then. As E3 2009 approaches, a mysterious trailer has surfaced via Kotaku showcasing an absolutely gorgeous sequence of what appears to be Jade eluding the authorities in a bustling marketplace.
Is it real footage of Beyond Good & Evil 2? There's been no official announcement yet, but GoNintendo seems to have details of where the trailer was shown. But how did it end up online? Will we see Beyond Good & Evil 2 at E3? So many questions! E3 can't come soon enough! Drop by our BG&E2 videos page to take a peek at the footage if you're yet to see it.
August 8th, 2008 [01:20:40
GMT
]
BG&E Community
If you're looking for some fantastic places to chat with others about BG&E's world, step right through to the official Ubisoft forums and the excellent community at BGE Revolution. There's also a mammoth amount of fan art inspired by the game at the bgeclub @ deviantart - swing by and enjoy the eye candy.
July 9th, 2008 [00:52:12
GMT
]
Beyond Network launches
Welcome! Beyond Good & Evil is an incredible piece of video game history and shouldn't be missed, even as the old bird climbs to almost five years old. The game deserves plenty of attention due to its original poor sales, so here we are! Beyond Network hopes to provide plenty of coverage for this gem, from information and game guides to juicy multimedia offerings.
With Ubisoft's announcement of an upcoming sequel, what better time to start spreading the good word. So far we have your basic information for the original game, along with slivers of info of the sequel gleaned from the teaser trailer released back in May. E3 is literally right around the corner, so Ubisoft should have plenty more BG&E2 love to offer there.
Poke around the site and learn more about the game, or reminisce if you've seen Jade Reporting & Co.'s first adventure through to the end already. Edge Online posted a fantastic retrospective for the original title back in late 2005, so be sure to have a read for more of that warm nostalgic feel.
So far the platforms of choice for BG&E2 are yet to be revealed (with the PlayStation 3 and Xbox 360 ripe for the picking), but the guys over at Nintendo Wii Fanboy present a fantastic case for the original game finding a remake home on the Nintendo Wii (even though the GameCube version works flawlessly on the Wii).
While watching the airwaves for news of Jade's next adventure, guides for the first game will eventually find their way into these walls. Have a look around and enjoy!